IHT Scheme
Mayfair Capital has developed a new Inheritance Tax Relief (IHT) Scheme to help protect, grow and pass on your wealth. 
Our Discretionary Managed Scheme is not a tax-planning tool, but a type of investment that offers a tax benefit to high net-worth individuals and sophisticated investors. 
Key Features
The Scheme lets you invest cash, from your estate, into UK-based portfolio companies that intend to qualify for Business Property Relief. 
Minimum investment: £100,000
Additional minimum subscriptions: £10,000
Target return: 5% per annum (not guaranteed)
Type of holdings: Unquoted shares
Expected investment term: Long-term until death
Dividends: Distributed annually if applicable
Distributions: Can be reinvested for capital growth or paid out as income (subject to income and capital gains tax)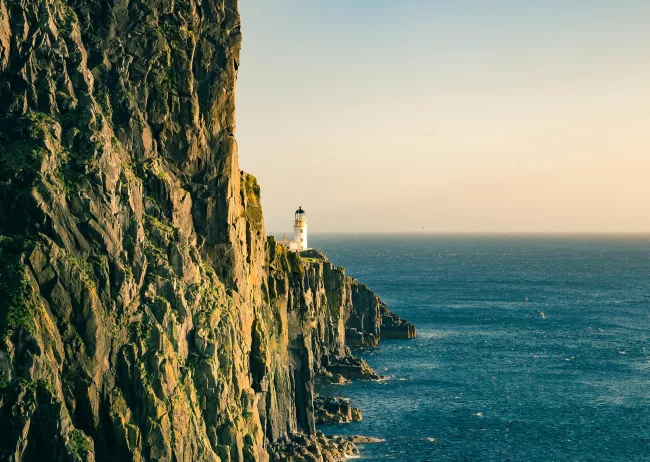 Key Benefits
Time efficient
Unlike longer-term tapering gift reliefs, the IHT relief from this Scheme kicks in after just two years (Assuming you hold the shares when you die, and the rules don't change).
Control of your assets
Unlike trusts or gifts, you retain some control over your assets. Investors can request the sale of their shares at any time, although the exit will be subject to liquidity and cannot be guaranteed.
Target Growth
In addition to the potential IHT relief on your shares, your investment may also grow over time. Funds are invested in portfolio companies with a predicted 5% per annum growth target (before fees are taken into consideration and not guaranteed).
Subscription Amount
You can invest into the Scheme with a minimum of £100,000 and in increments of £10,000 thereafter. There is no maximum investment.
Dividends
Dividends will be available six-monthly and can be reinvested into the Scheme or taken out as income. These may be liable to income or capital gains tax.
How the scheme works
This Scheme has been created to allow you to pass on more of your wealth free from Inheritance Tax (IHT), after only two years, by investing in shares of unquoted UK companies that are expected to qualify for Business Relief (BR). BR is a government-approved relief from IHT that has been designed to create a positive impact on the economy by supporting the growth of UK companies.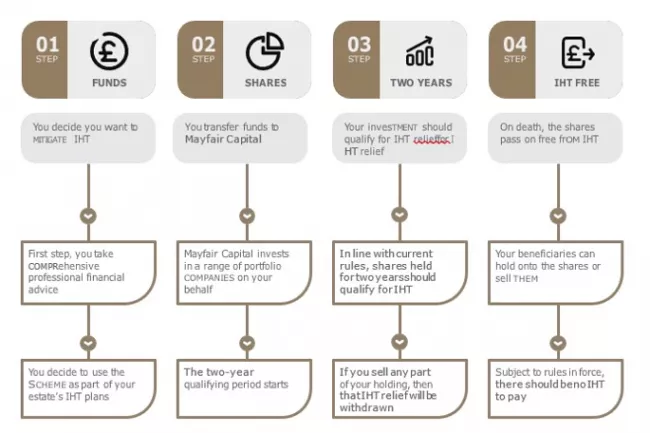 Investment Strategy
Money invested through the Scheme is used to purchase shares in Portfolio Companies whose core business is corporate lending, a trade that according to current regulations, qualifies for BR.
By investing into the Scheme, your money is placed within a discretionary portfolio managed by Mayfair Capital. We will take a risk-rated approach and decide how much money to invest into each of the Portfolio Companies which have been carefully selected to invest in and are managed by the Investment Adviser, SHP Capital.
Each Portfolio Company invests in a different sector and has a unique investment strategy and carefully selected investment parameters. These sectors include:
Real Estate Lending
Commercial Lending 
Litigation financing
When selecting businesses to invest in, the SHP Capital focuses on finding companies that offer a substantial security package of tangible or fixed assets, committed founders and/or management and a dynamic and straightforward business model.
Initial Fee

XX%

Annual Management Fee

(An ongoing management fee to Mayfair Capital will be due to cover the costs of the Scheme and is deducted from your portfolio each quarter.)

XX%

Investment adviser fee

(An ongoing fee to SHP Capital for the management of the portfolio companies. If the portfolio company achieves less than 5% return at the end of each financial year, no investment fee is deducted.)

XX%
Risk Factors
Tax rules may change
Tax rules, rates, and benefits may change and we cannot provide a long-term guarantee that the portfolio companies will qualify for Business Property Relief.
Your capital is at risk
Investing in unquoted shares is a high-risk investment. The value of these shares may rise or fall significantly and predicted growth rates and dividends are not guaranteed.
Limited Liquidity
There is a liquidity risk with these investments. Unquoted shares are harder to sell than listed shares and you or your beneficiaries may get back less than you originally invested. You should not rely on past performance figures.
Investment Horizon
The investment must be held for at least two years and held on death to qualify for IHT Relief. Investors typically hold their investment for a minimum of five years. 
How to invest
1.    You need to decide how much you'd like to invest – the minimum investment is £100,000, but there's no upper limit to investing in the Scheme.
2.    Complete the application form and send it in, along with proof of your ID and address.
All applications can be sent to info@mayfair-capital.co.uk or by post to Mayfair Capital Limited, 3 Queen Street, Mayfair, London, W1J 5PA
We're happy to answer questions. Contact us on 02037954964 or email us: info@mayfair-capital.co.uk
Disclaimer 
Investments put capital at risk. Remember that the value of investments, and any income derived from, can fall as well as rise. You may not get back the full amount they invest. These investments are risky and are not suitable for (and will not be marketed to or capable of being invested into by) ordinary retail investors. The investments are illiquid by their nature and may be difficult to realise if fast access to capital is required.  Tax treatment is key to the return on investment and tax treatment depends on individual circumstances and could change in the future. Smaller and unquoted company shares could fall or rise in value more than other shares listed on the main market of the London Stock Exchange. They may also be harder to sell.